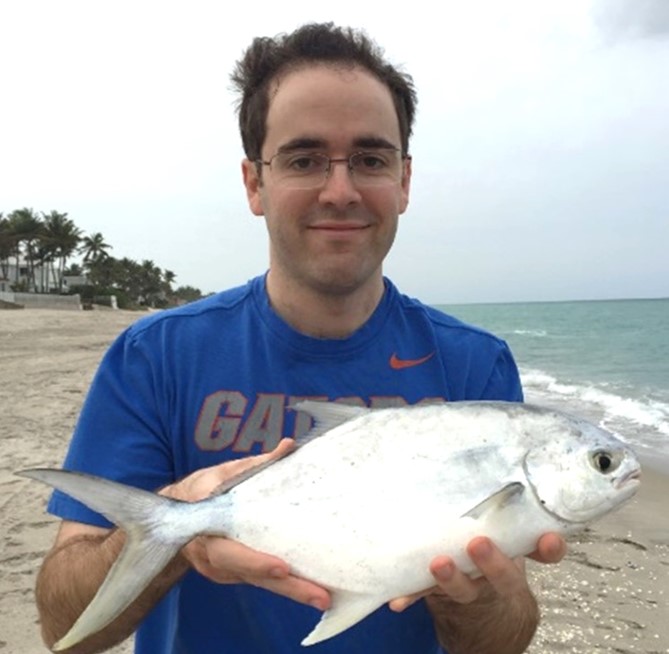 Ron Fick is a PhD candidate in Computer and Information Science and Engineering working with Dr. Paul Gader. Growing up in Palm Beach, Ron developed a connection with the Florida ecosystem and coastline. He grew up playing golf and fishing off the beach. At Suncoast High School, he was exposed to computer science in the school's magnet program. That experience would lead to a passion for programming throughout college and beyond.
A lifelong Gator, Ron attended the UF for a bachelor's in Computer Engineering and went directly into graduate school at UF. He has worked on a variety of projects during his time at UF. He spent two summers at the NASA Jet Propulsion Laboratory working on compensating for the water column in remotely sensed data over coral reefs in the CORAL project. He also worked with the Naval Undersea Warfare Center's Persistent Aquatic Living Sensors Program to develop a computer vision system to track fish underwater.
Most recently Ron has been working with the Center for Coastal Solutions to develop algorithms to detect red tide from satellite remote sensing data. While the Florida Fish and Wildlife Conservation Commission (FWC) samples coastal waters for red tide, satellite data can cover a much larger area with minimal cost, helping to better target prevention and mitigation strategies on the ground. Additionally, the potential for detecting red tide at low levels opens the opportunity for quicker response to red tide events.
Ron's dissertation work looks at applying Generative Adversarial Networks to the task of semi-supervised learning, particularly for satellite data. It's often expensive to collect image labels in the field, so Ron's research makes use of a small number of training samples alongside a larger unlabeled set. Ron's work looks at making these methods robust against the outliers that are often present in the unlabeled data.