University of Florida Partners with SAS to Tackle Water Quality Challenges with Analytics 
Article from ESSIE
CHARLOTTE HARBOR WATER QUALITY ANALYTICS PILOT PROJECT EXPANDS
The University of Florida's Center for Coastal Solutions, or CCS, and the SAS Institute, a global leader in data analytics software, are joining forces to study the factors that influence water quality and the connections between water quality and economic activity in southwest Florida. Funded by the Florida Department of Environmental Protection and focused on the Charlotte Harbor estuary and its watersheds, the project aligns with CCS' mission to innovate cutting-edge data analytics, modeling and artificial intelligence and provide leaders the insights they need to identify the decisions and investments that will make Charlotte Harbor an environmental restoration success story.
Tapping into SAS' comprehensive expertise in data management and analytics, CCS and SAS will develop a web-based platform to allow researchers to explore, analyze and even visualize the data collected from the water in Charlotte Harbor and gain insights into effective clean water management techniques.
An interdisciplinary team of CCS researchers – hydrologists, oceanographers, ecologists, economists and computer scientists – will use these data to investigate the interdependencies among pollution, ocean circulation, coastal water quality and economics, and use satellite data to develop high-resolution water quality forecasting technology.
In a recent collaboration, CCS and SAS developed a pilot-scale platform to bring together massive amounts of water-quality data from the southern portion of the Charlotte Harbor estuary in near-real time with easy-to-use visualizations.
"While this pilot project demonstrated the value of quickly integrating high-quality data to support decision-making and scientific research, the current project will allow us to expand our data, analytics and modeling capabilities to the central and northern regions of the estuary and include economic data and analyses. These new elements are allowing us to study the environmental and economic dynamics of the region far more comprehensively and guide more holistic solutions," said Christine Angelini, Ph.D., CCS director and lead investigator on the project.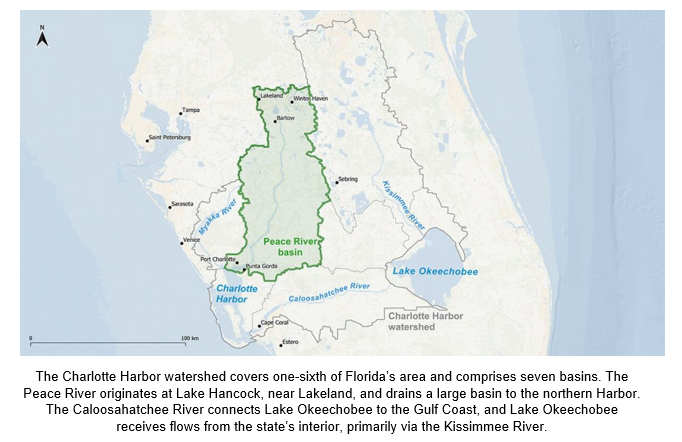 As the project progresses, CCS and SAS will explore a wider range of drivers affecting water quality in Charlotte Harbor and the Peace River Basin and will estimate the economic impacts of environmental changes throughout the region.
A vital resource being employed in this project is the HiPerGator, the most powerful university-owned supercomputer in the U.S. and the centerpiece of UF's AI Initiative, which allows Maitane Olabarrieta, Ph.D., CCS associate director, and her team to hindcast and forecast 3D hydrodynamics of the estuary and to verify these models based on data collected from past events. The investigators can now predict the relative effects of freshwater discharge, tides and winds and understand how those factors might impact the way pollutants are transported in the estuary and in the nearshore, and how long they can persist inside the estuary.
"At CCS, we are deeply committed to our mission of predicting and preventing environmental hazards that impact the health of our coastal communities," Dr. Olabarrieta said. "This is just one example of how UF's supercomputer capabilities are helping us deliver on our promise to our community, and we are excited to see its impact throughout the state of Florida."
Dr. Angelini emphasized that by capitalizing on the supercomputing power of the University of Florida and capabilities of SAS Viya, which is a comprehensive data management and visualization platform, the project team is in a unique position to leverage large amounts of environmental and economic data that have been collected by local, state and federal agencies as well as local partners like the Sanibel Captiva Conservation Foundation, and others to better understand how coastal water quality is changing and why.
"Our primary goal in coupling this advanced scientific understanding with a holistic assessment of the regional economy is to deliver useful, actionable information to decision makers who want to leave a legacy of cleaner waters, healthier ecosystems and a more robust, resilient economy in this region of the state," she said.
This project is one element of the state of Florida's larger efforts to tap into analytics in bold efforts to improve water quality. In particular, Florida Governor Ron DeSantis' FY22-23 budget commits more than $3.6 billion to the state's environment and water quality, of which $17 million will be dedicated to data analytics for water quality improvement.
"We are excited and proud to partner with the University of Florida and the SAS Institute to develop innovative solutions to complex challenges," said Mark Rains, Ph.D., Florida's chief science officer. "This analytics platform will help us to better identify and respond to water-quality changes in Charlotte Harbor, and it has the potential to unlock data-based solutions that will enhance our efforts around the state."