Comprehensive Coastal Observing Network (CompCON)
The CCS is launching a new multi-sector initiative to advance how we monitor, model, and deliver information about coastal hazards in a way that can be more immediately used in decision-making. This flagship Comprehensive Coastal Observing Network (CompCON) involves over 40 members from partner sectors and universities. Seven focused working groups are actively identifying critical research needs and sharing data, analytical techniques, modeling capabilities and policy platforms. The CompCON pilot phase is specifically focused on water quality challenges impacting the economy and coastal environment in Charlotte Harbor in southwest Florida.
Over the next two years, CompCON will be refined and expanded in scale to produce cost-effective, technologically advanced approaches for:
Real-time, AI-assisted, high resolution monitoring of coastal waters, lands, air and people
Forecasting near-term and multi-decade changes to the coastal zone
Enabling decision-makers to explore proactive management scenarios
Ultimately, CompCON seeks to build and continually advance the coastal monitoring and modeling systems of the future. We envision that these technologies will deliver information to decision makers, stakeholders and the public at the scales with the level of certainty required for aggressively addressing water quality and other hazards at the coast.

CompCON monitoring, forecasting, and intervention system.
---
GEOGRAPHIC FOCUS OF WORK

Charlotte Harbor was chosen for this pilot because of the multiple environmental issues facing the region and the multitude of resources available to tackle these challenges. Environmental issues include harmful algal blooms, hurricanes, low-oxygen "dead zones", and sea level rise. Resources include robust water quality monitoring by Sanibel Captiva Conservation Foundation, an operational hydrodynamic model for the region developed by Dr. Robert Weisberg's Ocean Circulation Group at the University of South Florida, and many other local data resources.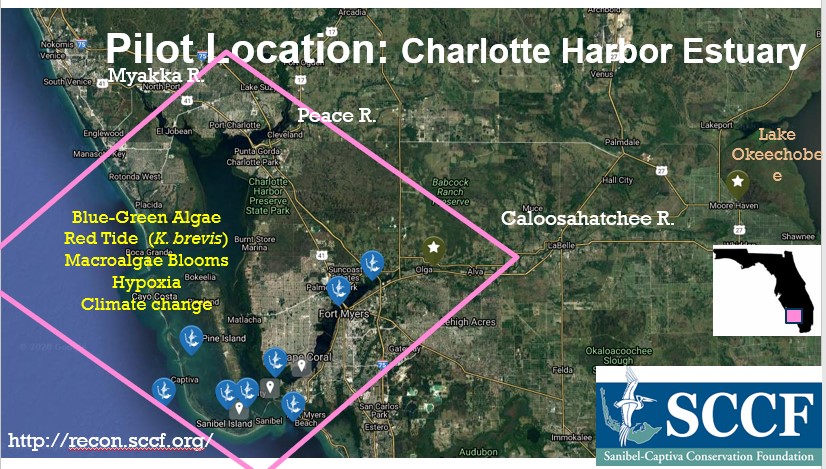 CompCON Pilot location: Charlotte Harbor Estuary.
---
Working GroupS
1) Earth Systems Modeling
This working group, co-led by Dr. Maitane Olabarrieta and Dr. David Kaplan, and involving collaborators from the University South Florida, Florida Gulf Coast University, and other entities, will integrate watershed, nearshore, ocean, and atmosphere models into an integrated Earth Systems modeling framework. This modeling system will provide powerful insights about the processes controlling circulation and water quality in coastal and nearshore waters and help guide decision-making.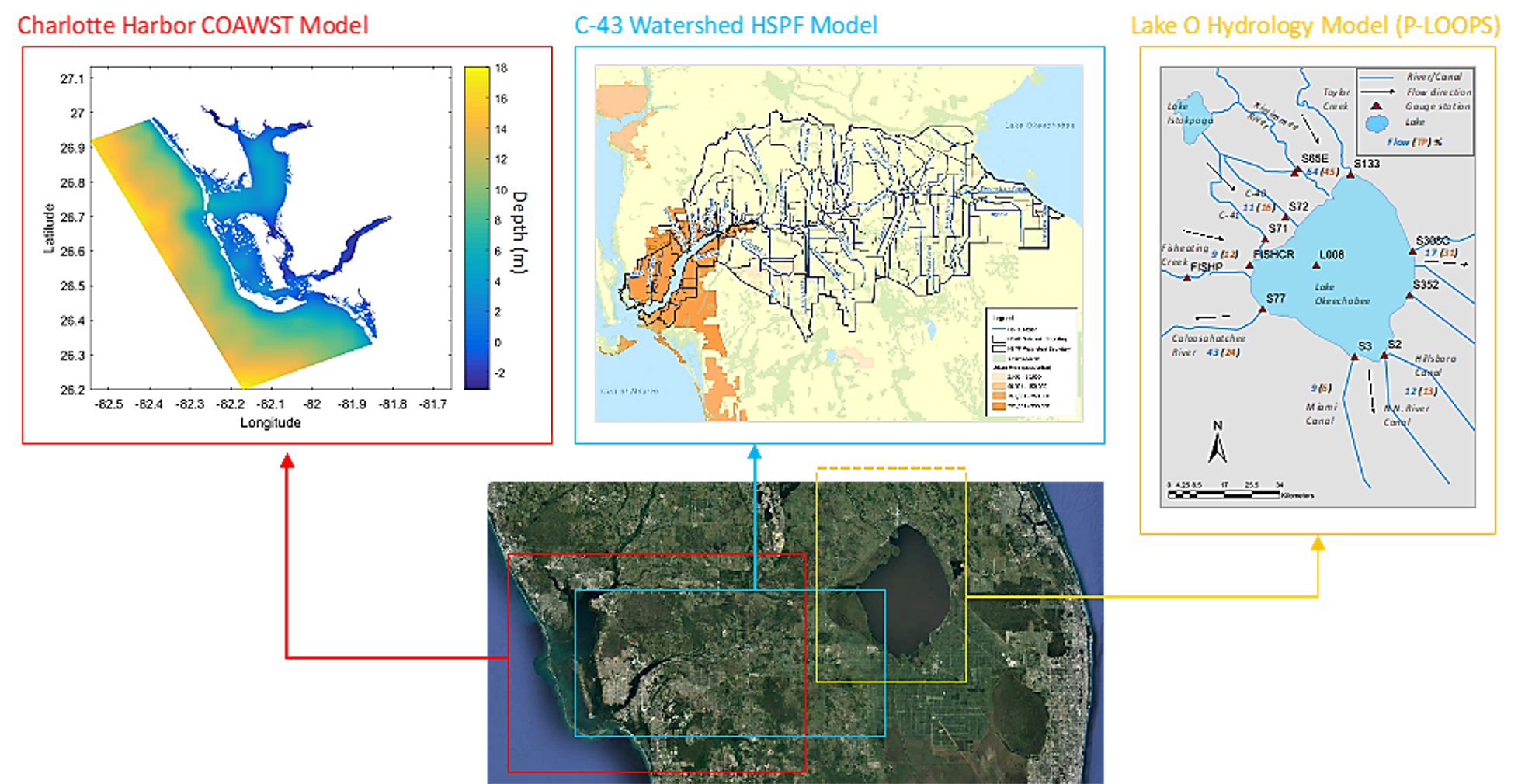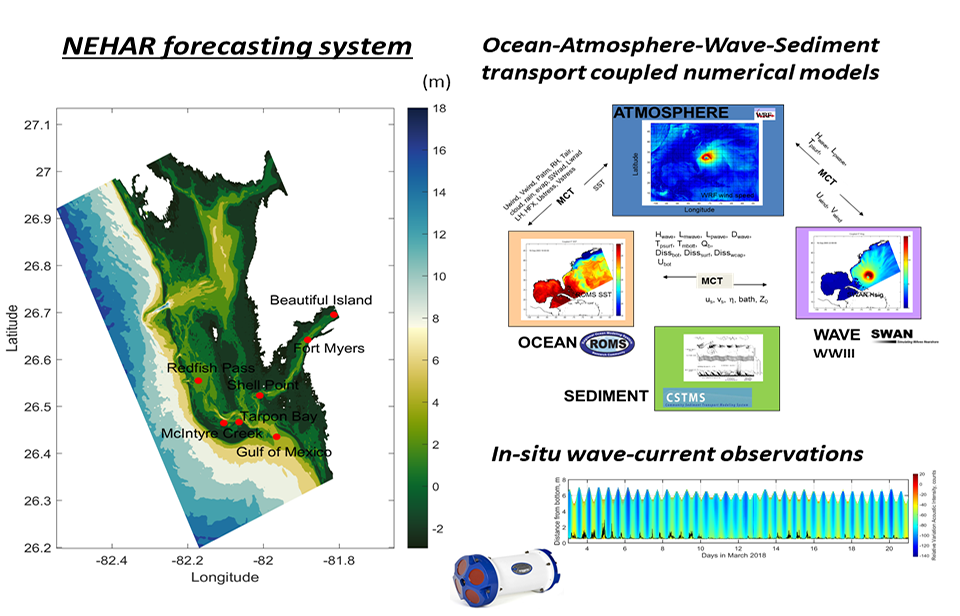 Modeling efforts underway in the watershed of the CompCON study region.
2) Water Quality and Harmful Algal Blooms (HABs)
This team, overseen by Sanibel Captiva Conservation Foundation (SCCF) Research Director, Dr. Eric Milbrandt and involving members from the CHNEP, City of Cape Coral, Lee County, NCSU, and UF faculty, is focused on better leveraging the large volumes of water quality and water quality data in the Charlotte Harbor region to understand drivers of harmful algal blooms (HABs), water quality hazard events, and to better coordinate water quality and environmental monitoring across the system.
Visualization of the frequency of red tide (Karenia brevis) in Florida from 2000 to 2020. Data from the Florida Fish and Wildlife Conservation Commission, Fish and Wildlife Research Institute harmful algal bloom database.Visualization created by Ron Fick, University of Florida.
3) Environmental Health: Ecology & Ecotoxicology
This working group, overseen by Dr. Christine Angelini and involving members from the SCCF, Charlotte Harbor Aquatic Preserves, UF|IFAS, USF and others, focuses on quantifying how coastal ecosystems (mangroves, oyster reefs, seagrasses, dunes) are responding to changing conditions, and how these systems in turn modulate the rates and patterns of change. In the coming years, this group will focus on quantifying how different ecosystem types mediate 'benthic-pelagic' coupling and how the rates and directions of such coupling may respond to changing water quality conditions. 
4) Multi-Sensor Fusion & Data Product Development
This team, overseen by Dr. Paul Gader, is working to utilizing Artificial Intelligence approaches to integrate remote sensing and in-the-water sensors to better track changing water conditions in near real time. This team is striving to produce a Caloosahatchee River 'plume' tracker as a first product from their integrative work as a test case for how to integrate data from heterogeneous sources into a single product for evaluating water quality change.
5) Coastal Policy
This working group, led by Tom Ankersen, comprised of members from the UF Levin School of Law, Coastal Heartland National Estuary Partnership, Sanibel Captiva Conservation Foundation and others focuses on leveraging the science generated through CompCON and stakeholder input to guide policy recommendations to reduce the incidence of coastal water quality hazards and lessen their impacts on coastal communities and ecosystems. 
---
List of partners
City of Cape Coral
Coastal Heartland National Estuary Partnership
CROW Clinic – Sanibel
Florida Department of Environmental Protection
Florida Gulf Coast University
Florida Sea Grant
Gasparilla Sound-Charlotte Harbor Aquatic Preserve
imec
Mote Marine Laboratory
NavOcean
NOAA
RDSea
Sanibel Captiva Conservation Foundation
SAS
University of Florida
University of South Florida
How to engagE
Contact us to find out how you can get involved!