Researchers are leveraging a state-of-the-art artificial intelligence transformer model to better manage the water flow from Lake Okeechobee to the Caloosahatchee River, which will reduce the amount of released nutrients that produce harmful algal blooms (HABs). CCS Postdoctoral Associate Enrique Orozco López, Ph.D., collaborates with University of Florida Associate Professors David Kaplan, Ph.D., and Maitane Olabarrieta, Ph.D., and Mauricio Arias, Ph.D., assistant professor at the University of South Florida, to guide water managers in delivering freshwater while minimizing the negative impacts of nutrient loads from horticultural activities.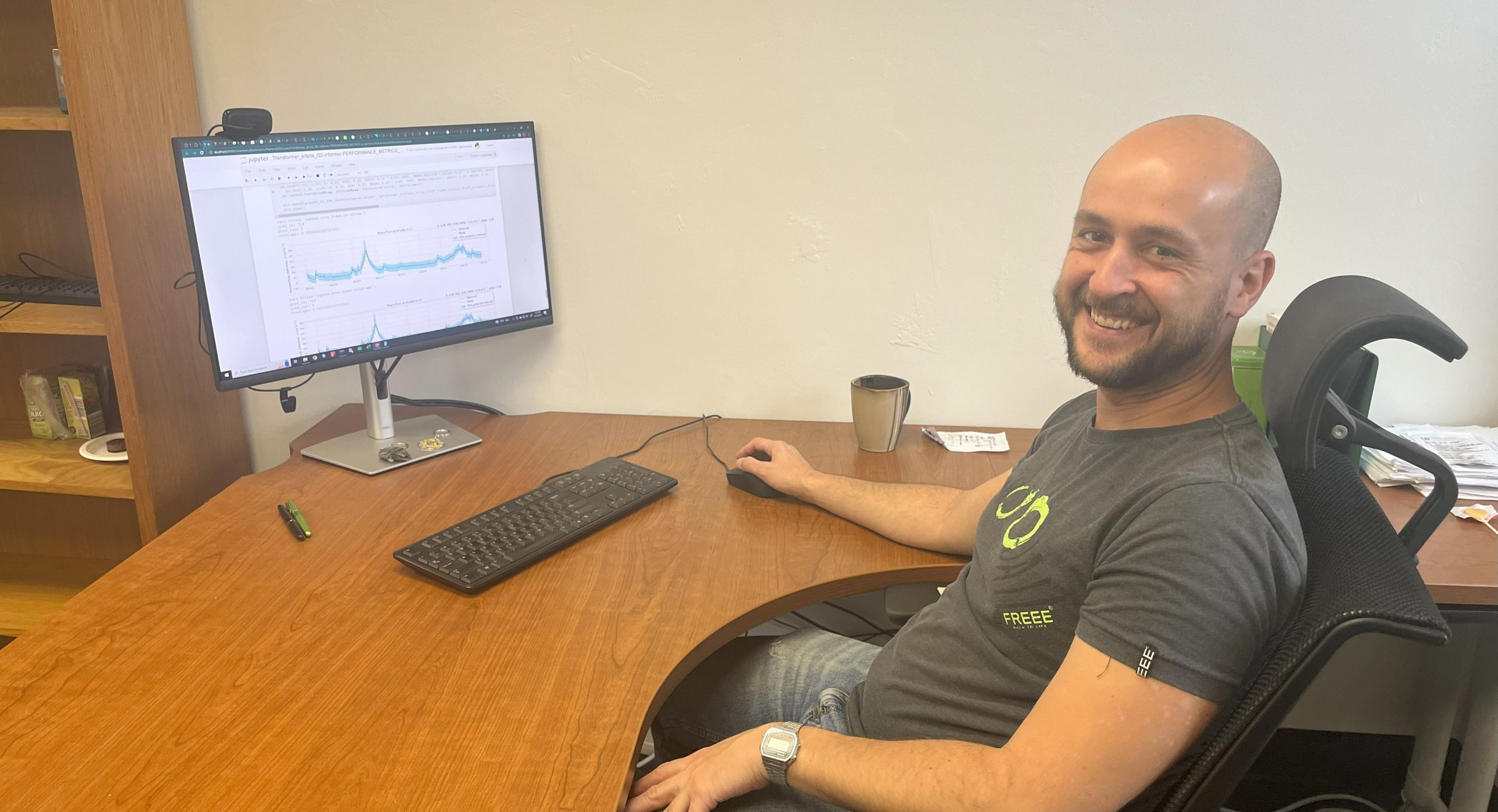 "The transformer model has been a groundbreaking development," said Orozco-López.  
Transformers are a type of machine learning model that track relationships between data elements, like words in a sentence or 3D signals, to learn context and meaning, according to an article by Rick Merritt, staff writer at NVIDIA. The model was first introduced for translation in natural language processing, which is how machines understand human languages and can communicate with us. ChatGPT is a widely known example of this architecture, in which chatbots can understand and hold conversations with people.  
A distinguishing feature of the model is its ability to pay attention to the most relevant information it has been trained to work with. In this project, the team trains the model to learn from years of archived data to forecast variables such as streamflow, salinity and nitrate concentration. The model learns to read current conditions in the water and a region's weather forecast, then accurately makes predictions up to 14 days for the area being studied. Transformers models' capacity to extract information from large datasets has led to a better performance compared to previous methods of hydrological modeling and can model a wider range of variables.  
Researchers use the resulting predictions to better understand the circulation in the estuary, which will allow them to better predict harmful algal blooms, salinity and water quality.  
The next step is to apply the model in real-time, with data from weather forecasting agencies to automate predictions on a day-to-day basis.  
"It's exciting to develop new, innovative ideas for applying artificial intelligence to solve complex problems like harmful algal blooms," said Orozco-López, "To me, that's what shines the most."  
This work is part of a project to integrate lake, watershed and estuarine models to guide water management in mitigating the impact of harmful algal blooms. The project is a partnership between the University of Florida, the University of South Florida, North Carolina State University and the Sanibel-Captiva Conservation Foundation with funding support from the U.S. Army Corps of Engineers.  
The project is ongoing through September 2024. Read more in this article.