By Tom Ankersen, Legal Skills Professor & Legal Program Director, UF Law
Students and faculty in the CCS Coastal Policy Lab (CPL) kicked off Spring Break with a field trip to Tampa Bay to get out on the water and meet the stakeholders where they work. The CPL is an experiential learning partnership between the UF Colleges of Engineering and Law, and Florida Sea Grant (FSG), led by UF Law Conservation Clinic Director Tom Ankersen and CCS Director Dr. Christine Angelini. The CPL is tackling 3 projects this semester, 2 involving the rapidly emerging area of "restoration aquaculture" and one assessing management strategies and options for Florida's wild oyster fishery. The Field trip was hosted by FSG Tampa Bay marine extension agent Angela Collins, who is deeply engaged with local restoration aquaculture stakeholders in the Bay area. Students from the two restoration aquaculture teams presented their projects to local stakeholders.
Ecosystem service value for clams and oysters based on their nutrient uptake capacity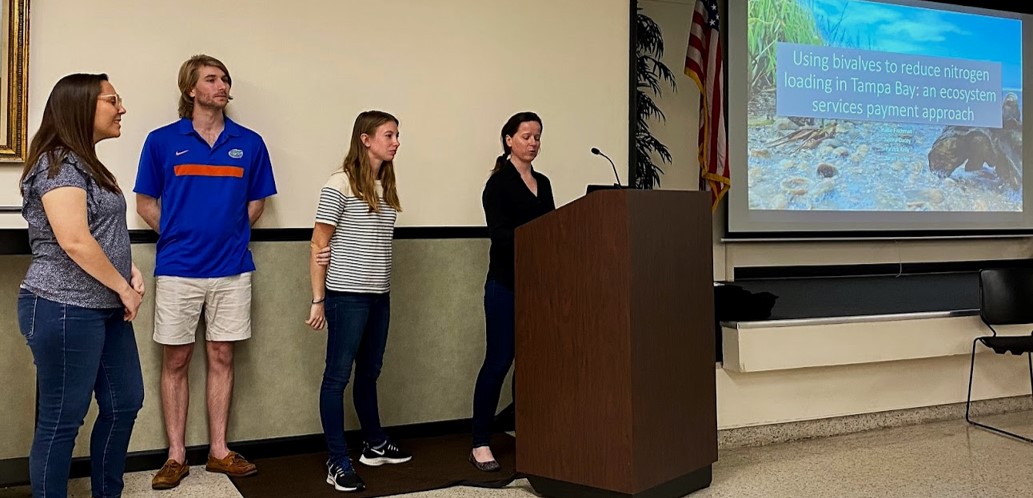 Because restoration aquaculture is relatively new, it raises important questions of science and policy. Working with a team of researchers led by Dr. Ashley Smyth and Dr. Angela Collins, a group of CPL students are seeking to establish an ecosystem service value for clams and oysters based on their nutrient uptake capacity, that is specific to Tampa Bay. Students on the science side are gathering and analyzing site specific data to establish the amount of nitrogen bivalves process in Tampa Bay and identifying suitable locations for restoration to take place. Students on the policy side are addressing the legal framework for converting bivalve nitrogen uptake to ecosystem service credits that can be used to compensate bivalve farmers for their contribution to this nutrient mitigation approach.
Oyster gardening program in the tidally influenced interior canal system of Sanibel Island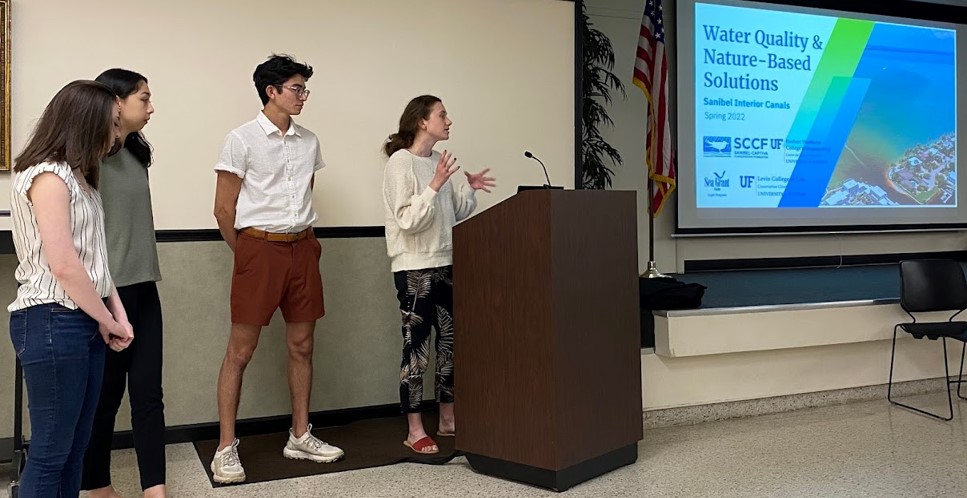 Further down the Gulf Coast a CPL team is working with the Sanibel Captiva Conservation Foundation (SCCF) to create a research-focused oyster gardening program in the Island's tidally influenced interior canal system. Oyster gardening programs have become a popular citizen science-based approach to water quality enhancement and habitat restoration. Canal front owners cultivate oysters (and other filter feeders) off their docks and seawalls to increase filtration and enhance canal water quality. In some cases, mature oysters are then relayed to restoration sites in the nearby estuary. Building on last semester's work to model Sanibel canal hydrodynamics, students on the science side are identifying suitable canal locations and testing different material and techniques to deploy in the Program. Students on the law side are determining the federal, state, and local approvals that may be required, and drafting a model agreement between SCCF and the canal front owners.
Conservation Campus Tour

In addition to two days on the water and a stakeholder engagement meeting, students visited the Conservation Campus, a 20-acre campus located in Apollo Beach, Florida, that exists as a partnership between the Tampa Electric Company (TECO), The Florida Aquarium, the Florida Fish and Wildlife Conservation Commission (FWC), and University of Florida / IFAS. The campus includes a restoration facility where UF scientists led by Florida Sea Grant restoration aquaculture specialist Dr. Josh Patterson are working to bring sea urchins and disease resistant corals back into the Florida seascape.

Farm-and-sea-to-table feast on the shores of Tampa Bay

But the highlight may have been the locally sourced farm-and-sea-to-table feast provided by local restaurant and sustainability entrepreneur Ed Chiles at the Terra Ceia community center on the shores of Tampa Bay. Among other sustainably harvested delicacies, students and faculty feasted on clams and oysters from the very sites they visited earlier in the day.

Thank you to our partners, stakeholders, tour guides, and chefs for facilitating an inspiring, educational, and tasty adventure!