A supercomputer that can predict climate change, natural infrastructure that slows flooding in coastal areas, and a highly maneuverable robotic fish for monitoring coastal waters were among the innovations shared by scientists and engineers at a summit hosted by the UF Center for Coastal Solutions (CCS) on December 2 at the Harn Museum of Art. The event drew more than 100 thought leaders, scientists, entrepreneurs, students, and government officials from diverse disciplines–AI, engineering, ecology, data science, robotics and others–many of whom are collaborating on projects throughout Florida to help improve water quality and address coastal hazards.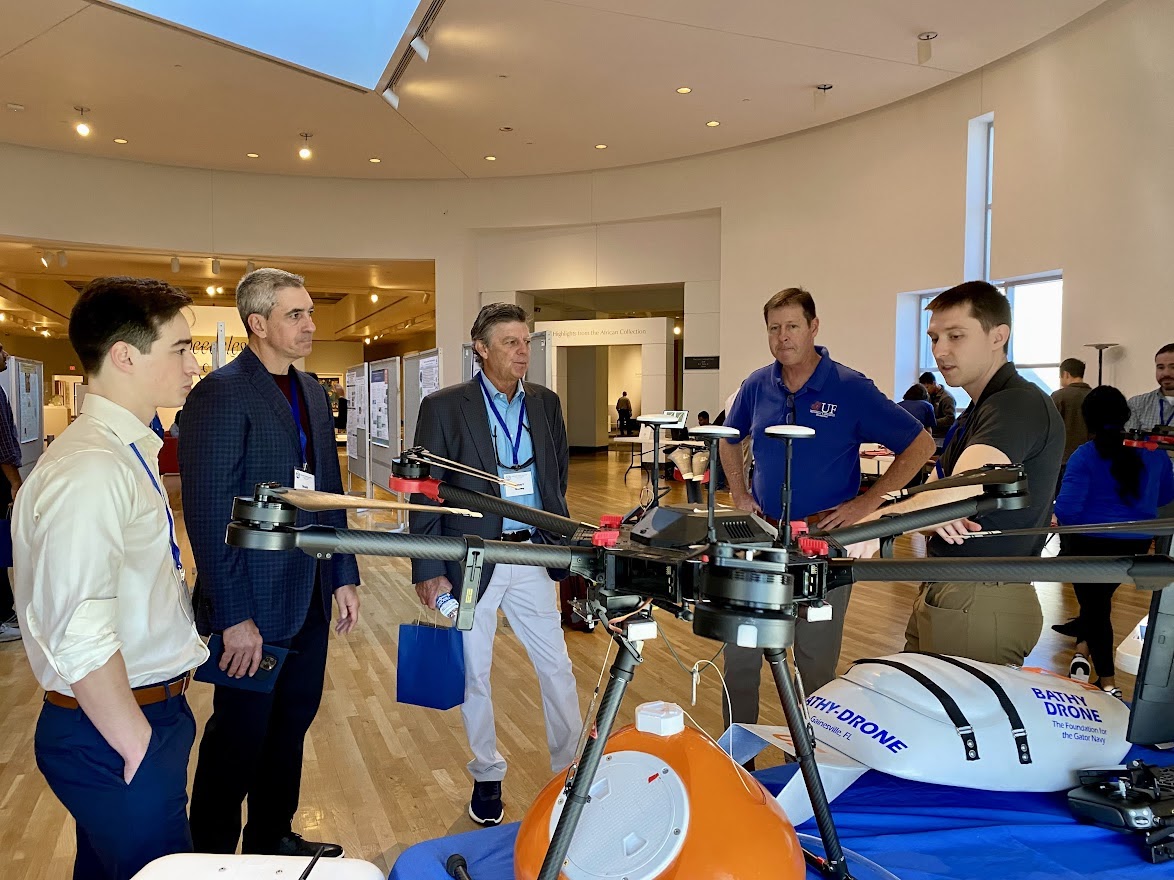 Researchers from UF Professor Peter Ifju's Unmanned Aircraft Systems Research Program (UASRP) share how they're using the Bathy-drone system to measure the depth of water in oceans, rivers, and lakes. (L-R) Student Gavin Gamble, CCS Advisory Board members Scott Pressly, Bob Bailey, professor Peter Ifju, and student Henry Tingle. 
Keynote speaker David Matthew Hall, a senior solution architect and data scientist with NVIDIA, talked about his company's Earth-2 initiative, which aims to build 'digital twins' of the Earth to address one of the most wicked challenges of our time, climate change, through modeling and AI. The second keynote focused on how to align engineering processes with natural ecosystems for resilient coastal solutions, as explored in an animated talk by Todd Bridges, senior research scientist and national lead with the U.S. Army Corps of Engineers. Though distinct approaches, both Hall and Bridges are using big data and big thinking to drive scalable, replicable solutions.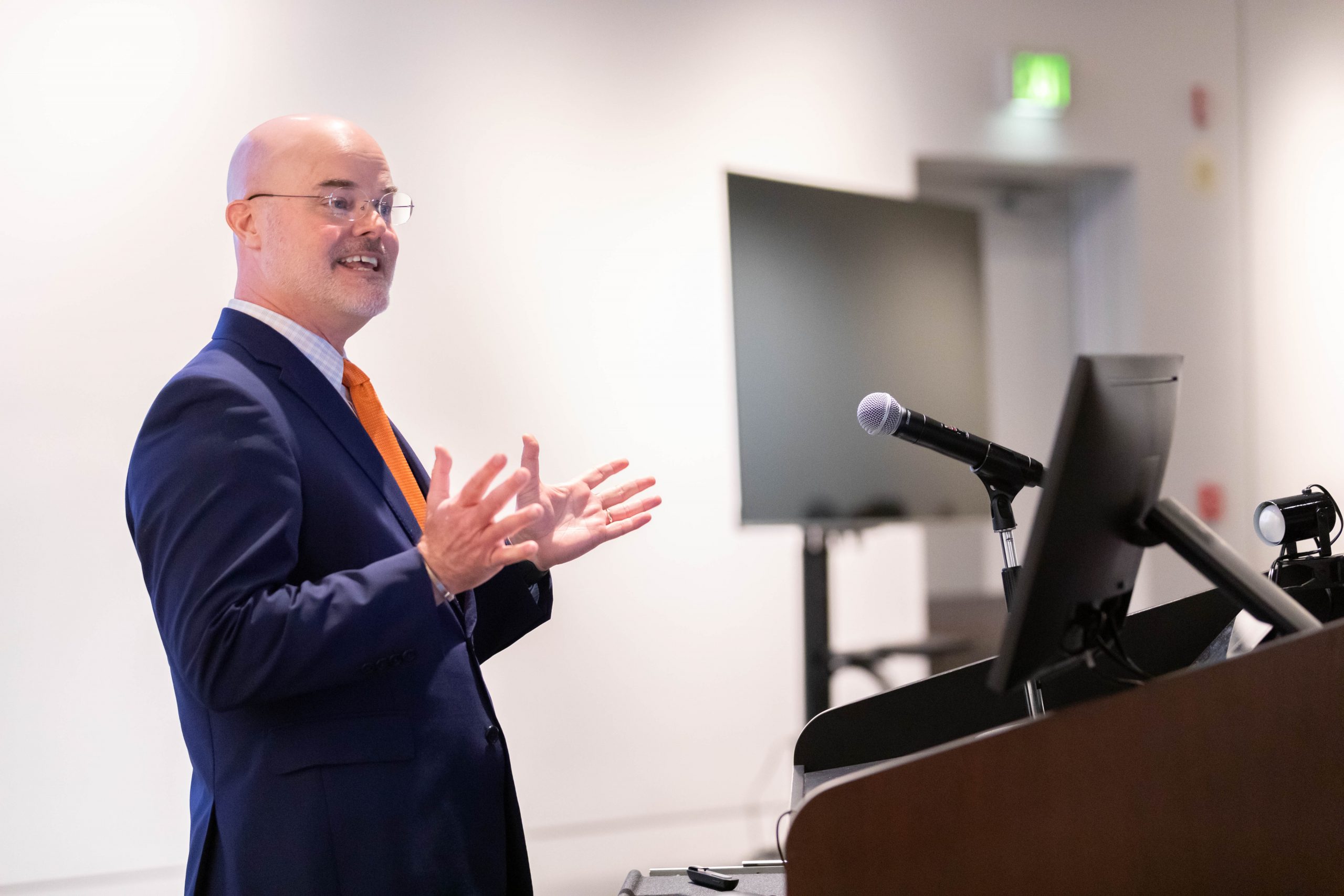 Todd Bridges, a senior research scientist and national lead at the U.S. Army Corps of Engineers, emphasizes the urgent need for engineering with nature solutions at scale to help ensure resilient coastal systems for the future.   
"It was great to see the CCS come together and to join in celebrating the significant progress that has been made in a short amount of time," said Bridges. "It's also personally encouraging and energizing when I have an opportunity, as I did during the summit, to meet with students who are committing themselves to nature-based solutions. They are the future, and the future is bright." 
The mission of CCS is to predict and prevent environmental, health, and economic impacts to coastal communities through collaboration and cutting-edge technology.  CCS Director Christine Angelini shared milestones of the Center's journey since its founding in 2020 to where it is now–a robust program of 15 targeted research projects throughout Florida, with nearly $22 million in funding, and collaborations with 30 partners and collaborators.   
"We've come this far this fast by taking an academic incubator approach to growth," said Angelini. "We've built a diverse team of experts, collaborators and partners, who are experimenting and innovating on a number of fronts, powered by UF's incredible AI infrastructure, which is the best in higher education, and the agility of a solid data science, field operations and support team, who make it all hum."    
Looking forward, Angelini says the CCS will work to achieve its vision of cleaner waters and healthier natural systems by focusing on three core areas: watershed-ocean modeling solutions for coastal water quality improvement, nature-based solutions for coastal resilience, and policy solutions to improve coastal health.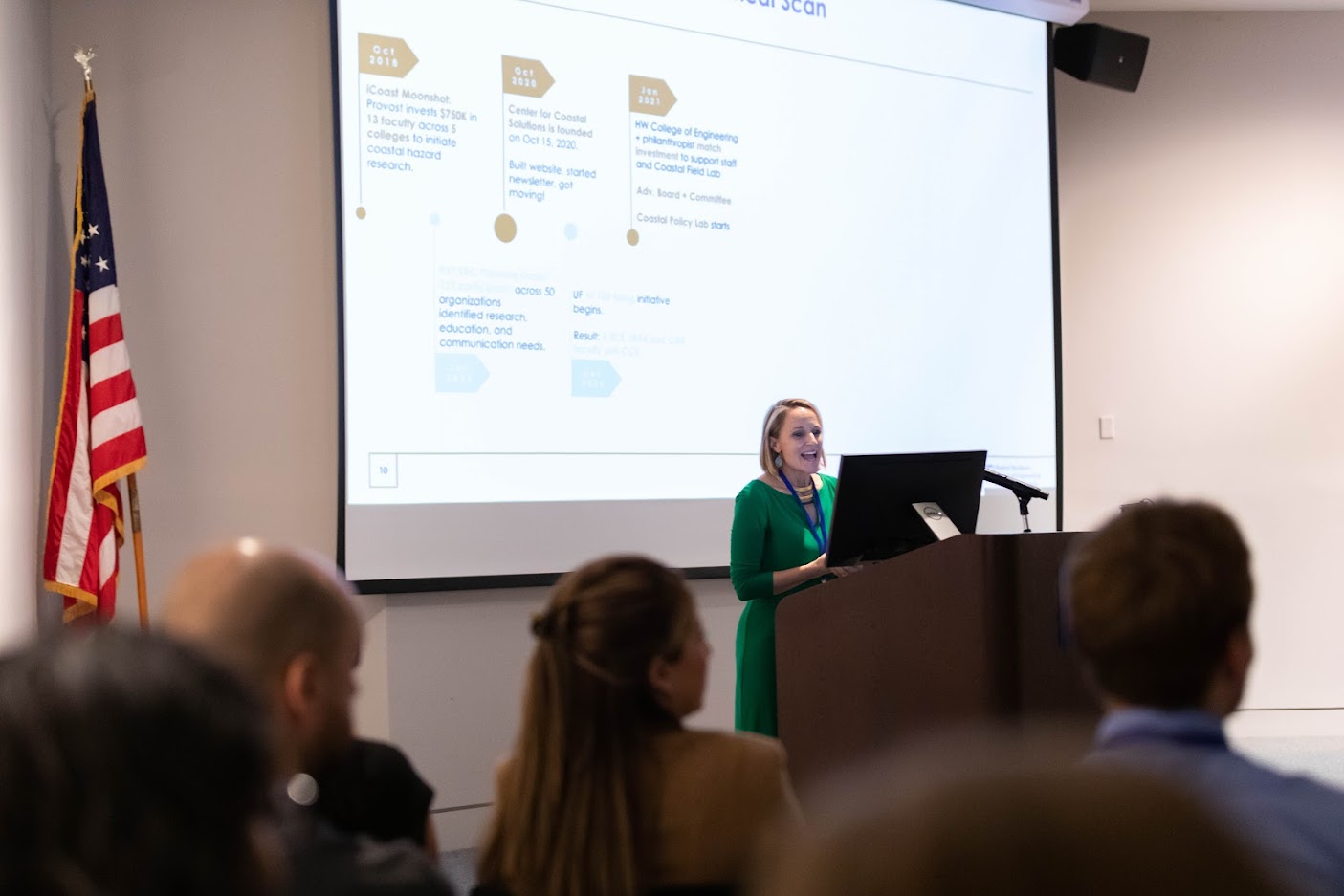 CCS Director Christine Angelini shares the story of the center's growth since its opening in 2020, thanking all who have contributed to their success.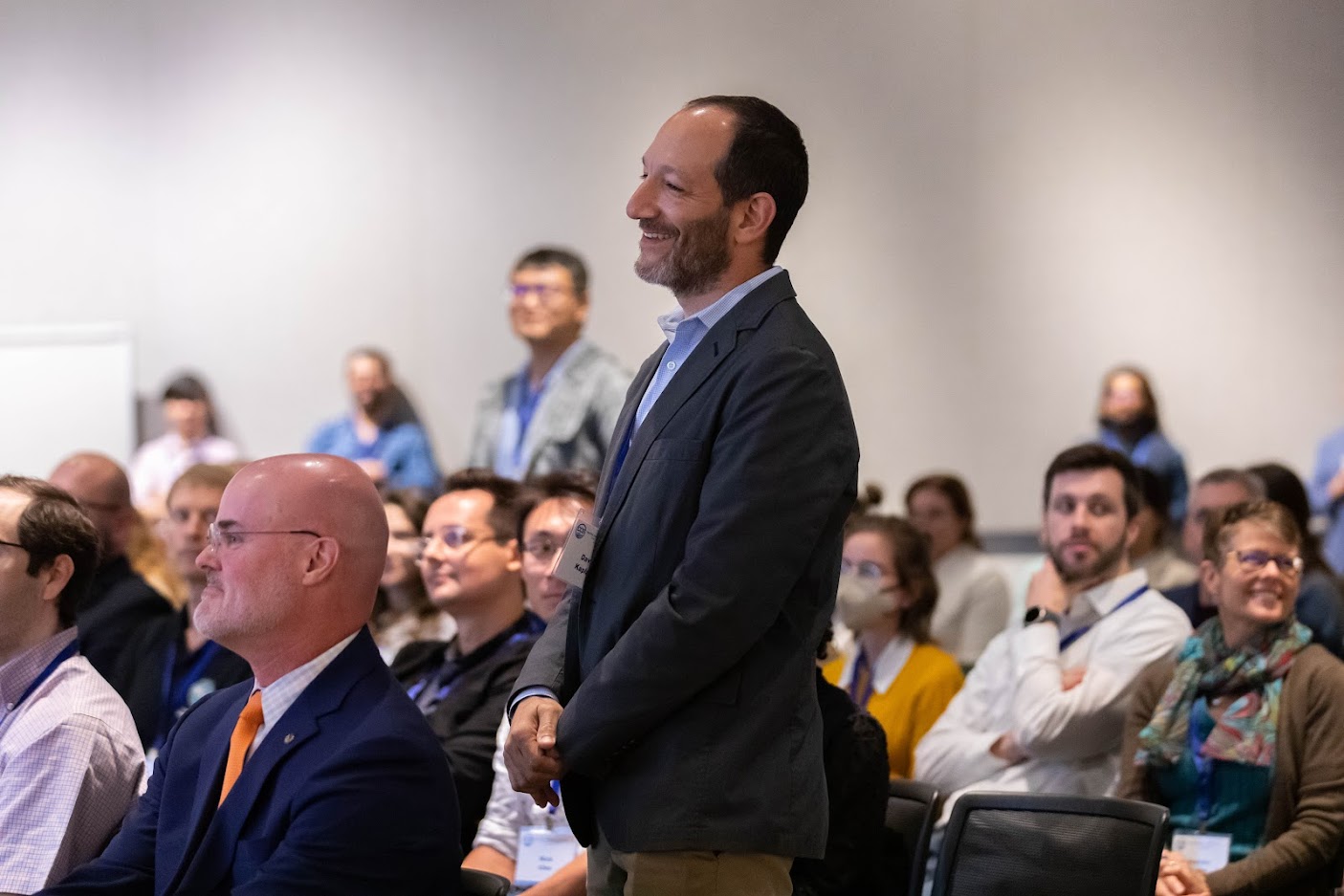 UF Associate Professor David Kaplan and other collaborators are applauded for their valuable contributions to the founding and success of CCS during a recap of successes to date by CCS Director Christine Angelini.   
"One of the most encouraging things for me was that this was clearly just the beginning of the next chapter of the kind and quality of cross-industry collaboration, which CCS is uniquely positioned to facilitate that will be required amongst key stakeholders to synthesize the data, technology and investment – of time, funding, passion – to drive effective action to save our coastal communities from growing environmental and water quality threats," said Drew Jeter, member of the CCS advisory board and global program management chief executive of AECOM.  
The event featured more than 20 poster presentations and technology demonstrations on research projects by students, researchers and industry collaborators. Presenters showed off novel underwater robots, advanced drone applications, AI for water quality monitoring, and advanced nearshore and estuarine circulation models.   
"Bringing people from so many different disciplines together to show how we are all working together towards a more resilient future was a memorable part of the summit for me; bested only by the air of enthusiasm for all the amazing work being done," said UF graduate student Britney Hay.     
In the new year, the CCS will embark on a Strategic Planning initiative with stakeholders to shape its future and accelerate its science-to-solutions-to-implementation cycle.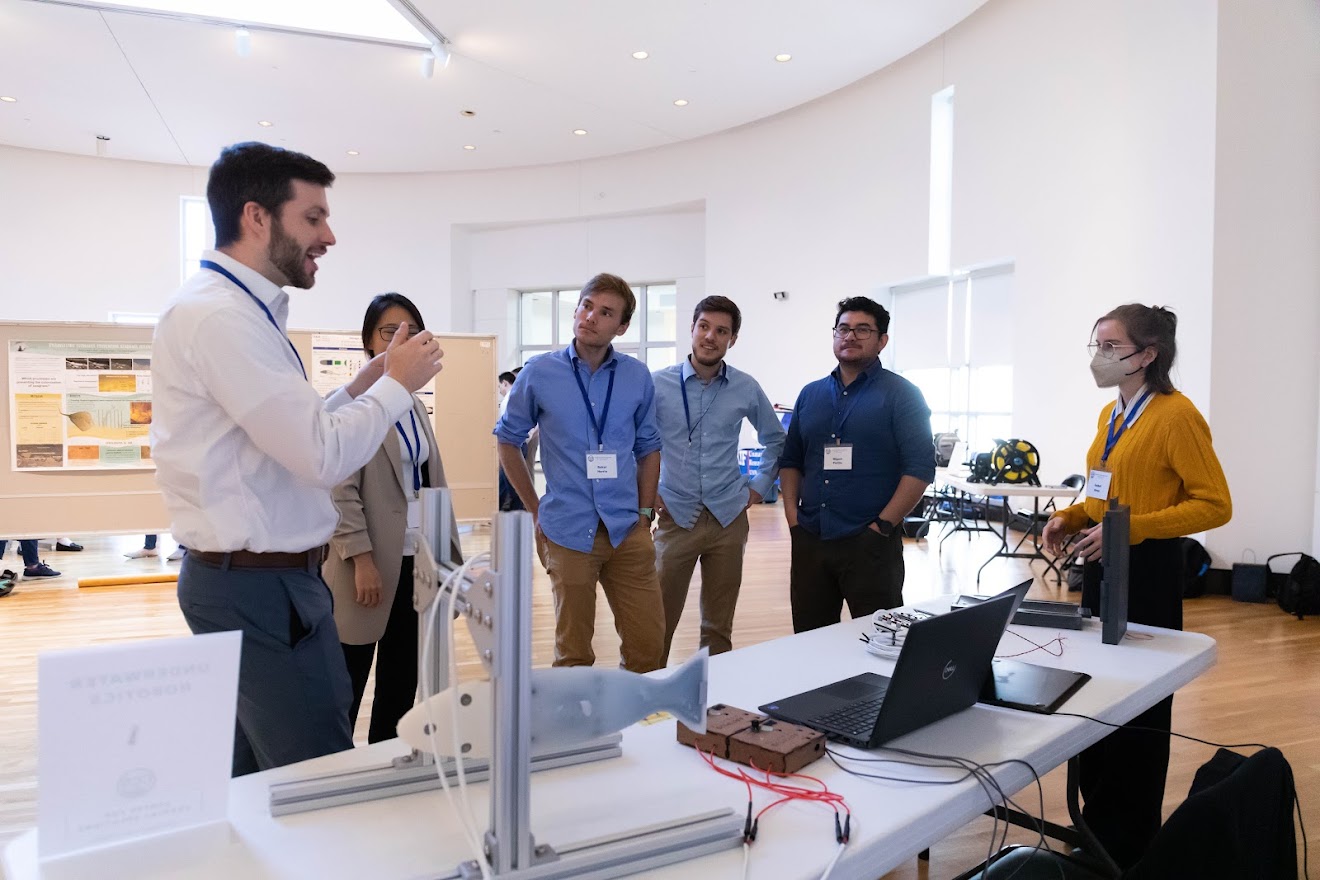 UF Assistant Professor Patrick Musgrave demonstrates an underwater robotic fish, nicknamed Nebula, part of efforts to improve the agility and performance of bioinspired swimming robots in coastal monitoring efforts.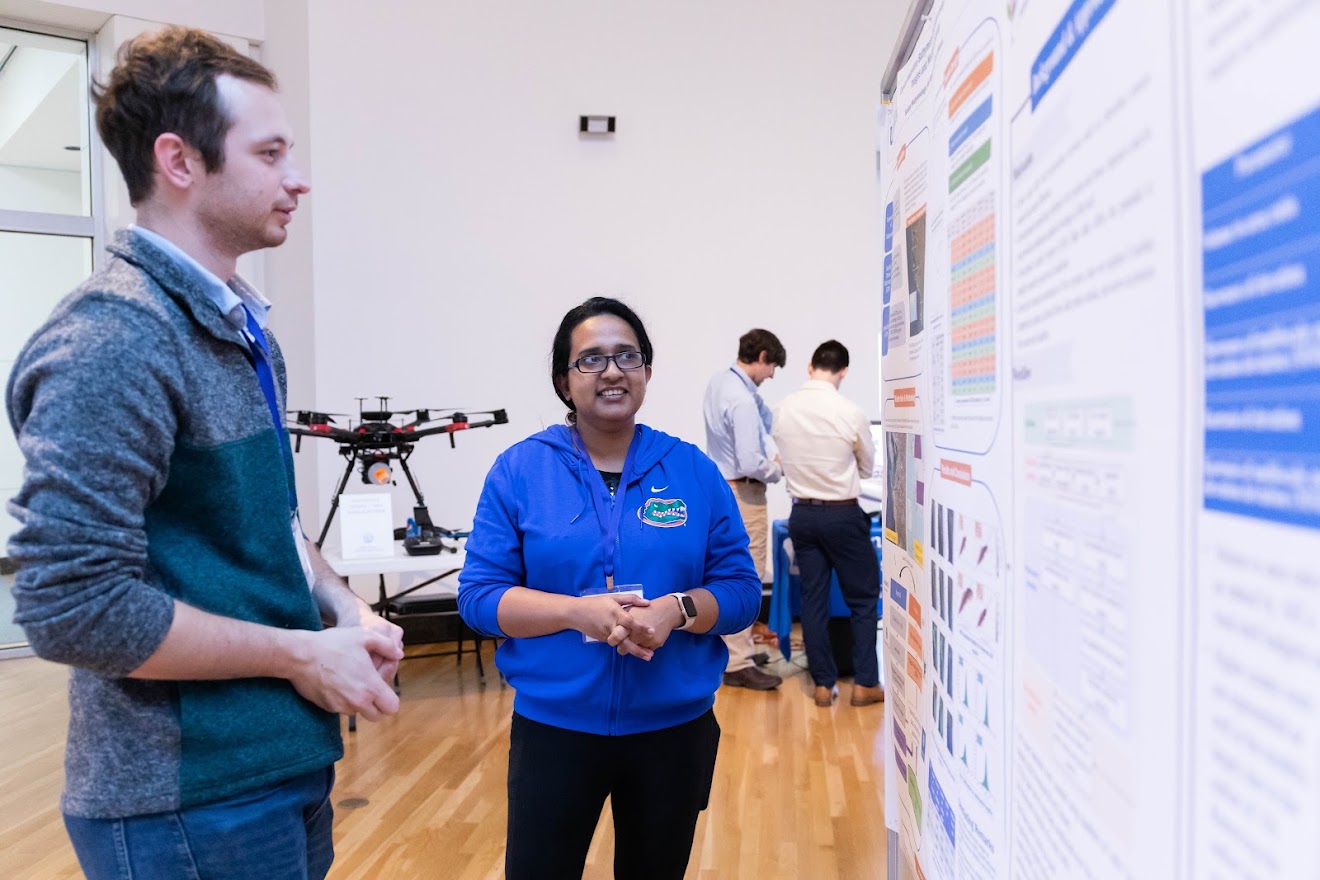 Graduate student Sanduni Mudiyanselage shares her research with colleague Michael Espriella about a framework to achieve more accurate and reliable satellite-derived bathymetry (SDB) predictions in challenging coastal environments.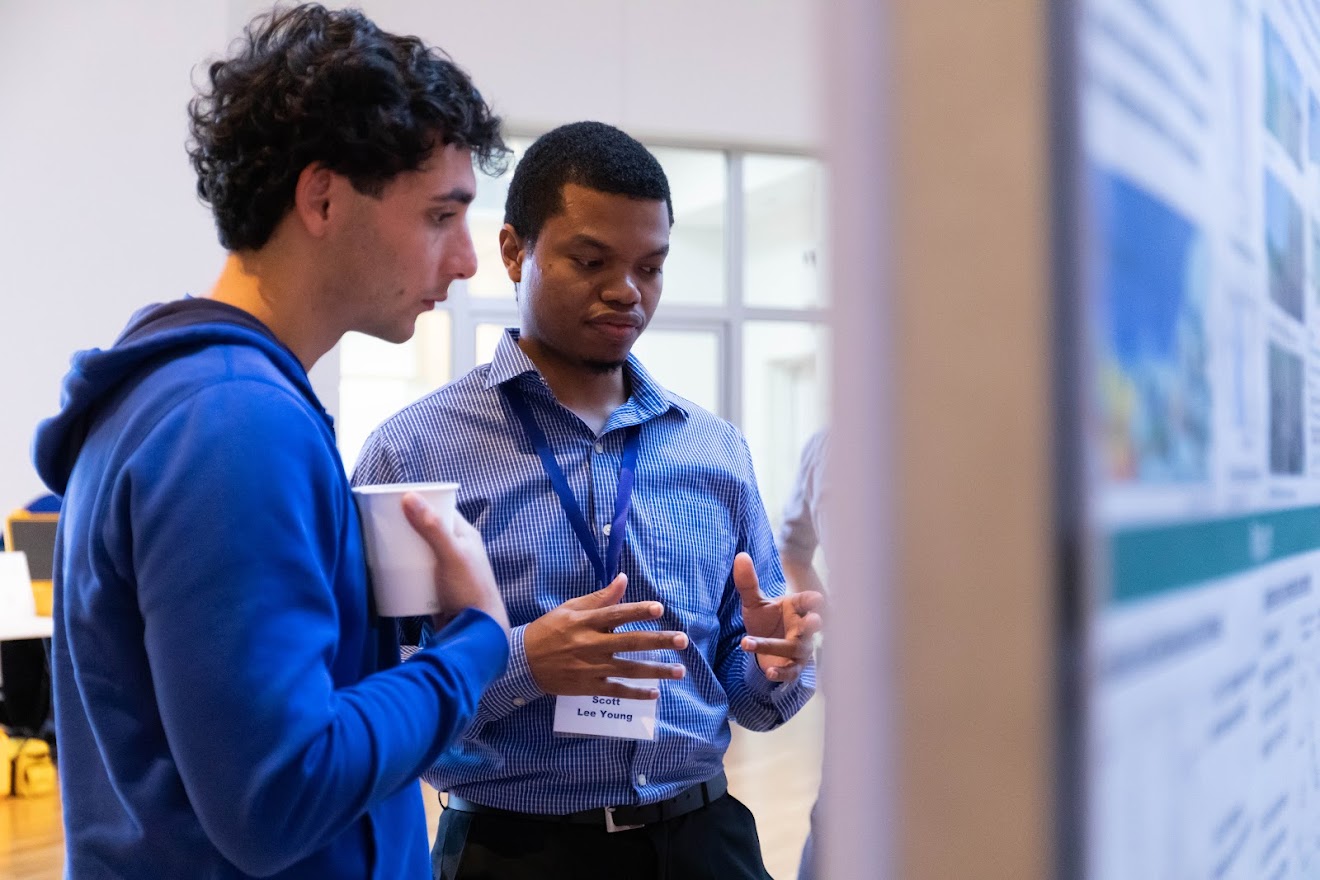 Graduate student Scott Lee Young explains his research on the interaction of tides and the waves seen crashing at the beach, with implication for wave energy harvesting, coastal structure loading, sediment transport, harbor dynamics, estuarine dynamics, nearshore processes, and more.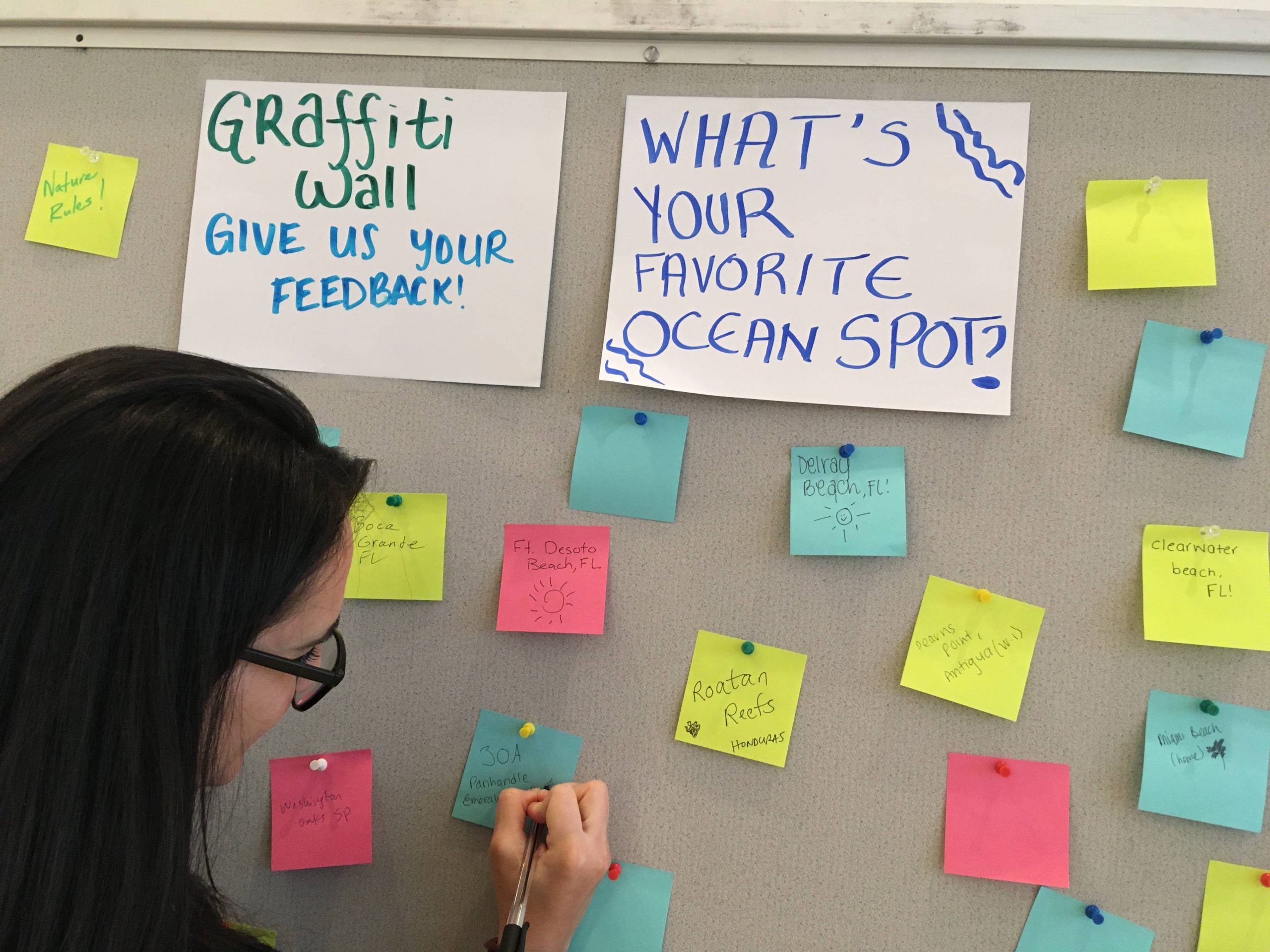 Kim Prince, CCS associate director of partnership development and communications, shares her favorite ocean spot in Florida.  
CCS team members ham it up during the State of the Center Summit on December 2 at the Harn Museum. (L-R) Miles Medina, Collin Ortals, Hallie Fischman, Beatriz Marin-Diaz, Adrian Sakr and Christine Angelini.