Adapted from ESSIE press release, April 13, 2021.
Scientists in the University of Florida's newly established Center for Coastal Solutions (CCS) and collaborators from Ocean Conservancy are researching and tracking the ecological effects of the Piney Point reservoir leak into Tampa Bay. The first samples are now in hand.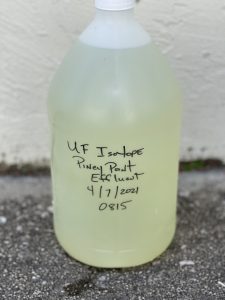 Over the past week, millions of gallons of wastewater were discharged into Tampa Bay, which could cause algal blooms among other effects, leading to the depletion of marine life.
The collaborative effort will identify where critical research gaps exist in current plans. Since the formation of the partnership Elise Morrison, Ph.D., an environmental engineering sciences assistant professor, in the Engineering School of Sustainable Infrastructure & Environment (ESSIE) has collected samples to analyze per- and polyfluoroalkyl substances (PFAS) substances and any other emerging contaminants. Andrew Altieri, Ph.D., an environmental engineering sciences assistant professor in ESSIE, plans to support the Sarasota Bay Estuary Program and Tampa Bay Estuary Program with their assessment of the changes in macroalgae and seagrass abundance in the water.
Personnel at Florida Sea Grant, Tampa Bay Estuary Program, and Sarasota Bay Estuary Program were instrumental in obtaining initial samples. Coordination is ongoing for future sample collection with these critical partners.
For further information, please contact Christine Angelini, Ph.D. by email at c.angelini@ufl.edu.
Other contacts for the following topics: